Sunday August 18th
A mixture of sunshine and cloud made visibilty difficult at times, but made for interesting shooting. Even with the changing light we had many shooters putting in great scores.
High Gun: Ray Sutton 95 x100 Well done Ray, a consistant top scorer!
Runners up : Giovanni Russo and David O'Donnell 91x100
Warwickshire County Champion: Jonti Spilman- 90 x 100
Oxford County Champion: Henry Mitchell 90 x 100
Congratulations to all the winners. Its good to see the younger shooters doing well, Jonti is one of younger Warwickshire shooters winning Colt Championship and Warwickshire County Championship, very well done Jonti, who has over the past year or so been on the podium many times including his first time shooting for the GB Helice Team in Sicily at the European Championships winning a gold medal along with Fletcher and Jenson King and individual silver. Its great to see the younger shooters doing so well against strong teams from abroad and we have a lot of talented young shooters entering our shoots.
Many thanks to all our shooters for your loyal support of our club, we appreciate it very much. Apologies for the lateness of this report we are having major issues with our website that the provider doesn't seem to be able to sort out, frustrating is not in it!
West Midlands Area & Inter Counties UT Championship - August 4th 2019
Well what a fantastic turn out for these Championships. The weather was quite kind until the very end when it felt like a monsoon had hit us! There was a lot of great shooting with many 25 straights mixed in the results. Open Shoot: High Gun: Kevin Borley 99 x 100 Matt Panter 98 x 100 Jonti Spilman & Kevin Gill 96 x 100 Well done to you all.
Congratulatons to Warwickshire winning the Inter Counties UT Gold and to
all the winners, great shooting!
-Sorry no photogarphs due to the weather the prize giving was done indoors
and when we got around to looking for the winners outside they had all
gone awol!
Many thanks to all our shooters for your continued support of our shooting
ground and we look forward to seeing you again sometime soon. We apologize
for these results being late we are having technical issues with our website host.
STAFF UT COUNTY CHAMPIONSHIP JULY 28th 2019
Sunday the 28th was like mid winter, after the hottest day on record two days before it was a nasty cold wet day with the wind pushing the targets on and visibility declining all the time, we had 7 squads turn out to shoot the
Staffordshire UT County Championship.
Joint High Gun: Jamie Sutton & Dick Fletton 95 x 100
Runner up Ray Sutton 94 x 100 close on their heels were Mark Wright & John Lucy b/0 both on 93
Some great shooting in the unseasonal weather conditions and very well done to the winners and we look forward to seeing you all again at our shooting ground sometime soon. Sorry no photo's of the winners, the weather was so bad and everyone went off before we could get them on camera! If you have won a trophy last year, please remember to return it for this years winner to be able to take it home with them on the day of the championship shoot.
WEST MIDLANDS AREA, INTER COUNTIES & HEREFORD & WORCESTER HELICE CHAMPIONSHIPS JULY 14th 2019
We were pleased to hold the above championships, although was an overcast day, it did brighten up later with a little wind. Five squads took part and we had some fantastic shooting and yet another thrilling shoot off - becoming a bit of a tradition in our Helice shoots and that always adds to the excitment of the day!
Star of the day was Paul Bailey winning West Midands Area Championship and overall High Gun 23/24
Paul is one of our wheelchair shooters who is now able to use our updated facilities and makes visiting the club easier and more enjoyable, as it is for all our shooters who have a disability. In recent times we had the car park tarmaced and the walkway which is so much better to access the shooting layouts and then this year we had the ladies toilet altered to accommodate wheelchairs and anybody with mobility difficulties.
Seven shooters were in for Silver and bronze placings, Matt Bodfish, Stu Burgess, Marcus Iddon, Jonti Spilman, Ben Killian, Wayne Killian and Ben Dingley (B/o) all on 22 x 24
See below for all results and very well done to all the winners!
Special thanks to Inchcape Jaguar/Landrove who very kindly sponsored the superb new perpetual West Midlands Area Helice Team Trophy and many thanks to their representative - Kirk for bringing one of their vehicles along and being kind enough to stay and present the trophies at the end of the shoot. Also many thanks to Marcus Iddon for getting this sponsorship.
Many thanks to all the people that helped to make the day run smoothly and Nicky and Andy Lloyd for taking the photo's. To all who stayed behind to help pick up the broken targets and put equipment away, thank you so much, we really do appreciate all the help that we are given.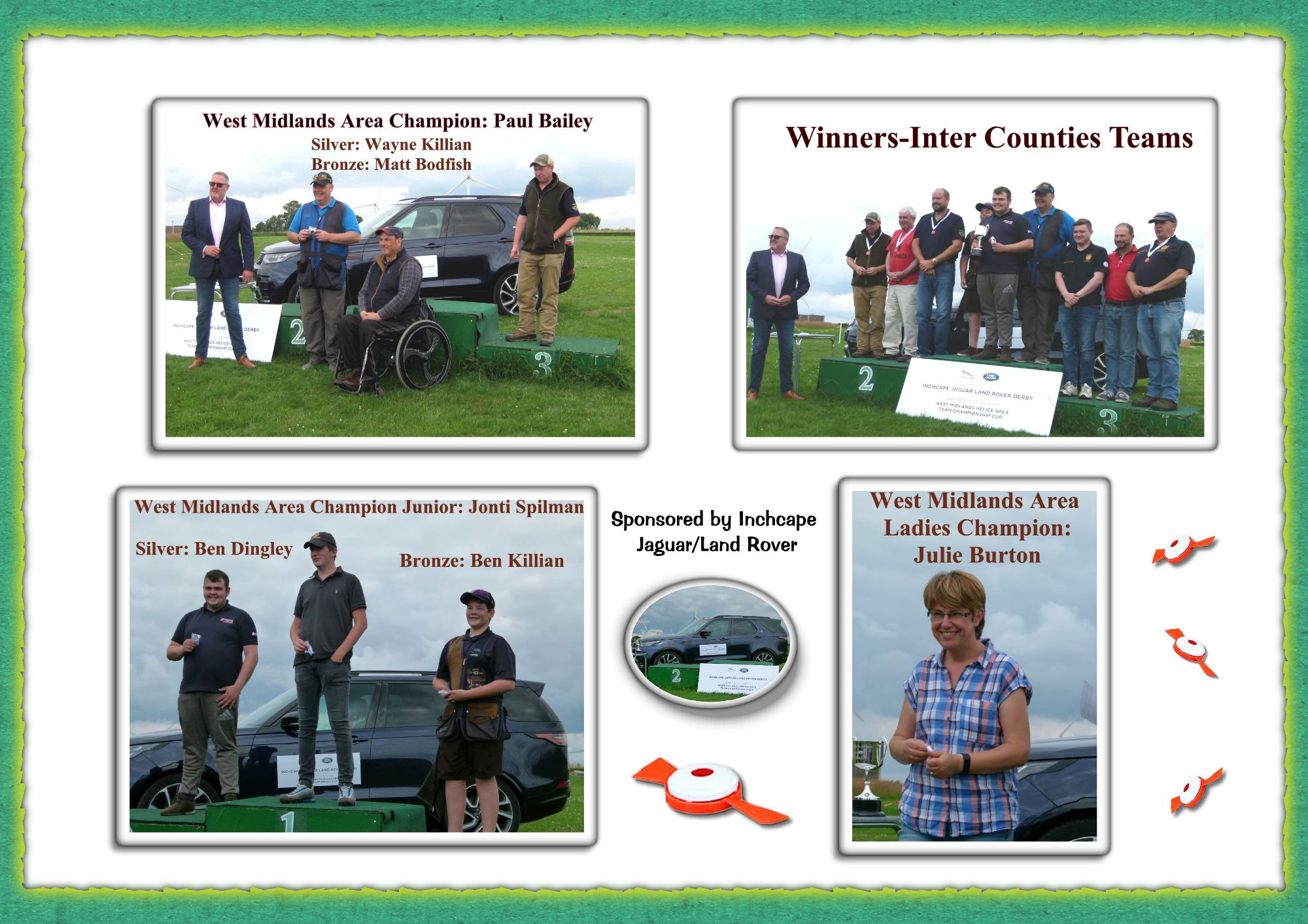 UT OPEN SHOOT JULY 7th 2019
A beautiful July day with lots of sunshine making great shooting conditions for todays UT shoot. We had 8 squads enter and some really great scores were put in.
Top Scorer B/O Dave Winter 97 x 100 Fantastic Dave!
After what turned out to be a thrilling battle of a shoot off :
High Gun Compitition: Kevin Borley 96 x 100 + 24 +15
2nd Phil Sanders 96 x 100 + 24 + 14
Phil Rowley 96 x 100 + 22
What a shoot of that was and very well done to you all and also to the 7 shooters chasing them all on 95 x 100
Dave Hardy, Sue Bate, Paul Insley, Ray Sutton, Stuart Palmer, Chris Tate, & John Lewis.
Many thanks to all our shooters for your continued support of the club, as always it is very much appreciated.
Next Shoot: July 14th
Helice - West Midlands Area & Inter Counties
& Hereford & Worcester Championship.
Teams will only be allowed from the seven member counties of the West Midlands. Best two scores from 3 to count . Individual entries from any County in or outside the West Midland accepted.
Practise: 9.00 - 9.45 Competition Start 10 am
Booking by text 07770551491 or email john@ngales.com NO PHONE ENTRIES PLEASE.

Hornsey Wood Open Pigeon Match
Muzzle Loaders Annual Helice Shoot - 29/6/19
Once again we held the 'Annual Hornsey Wood Open Pigeon Match' for the Muzzle Loaders and another hot sunny day for the fantastic turn out. As always a great atmostphere and lots of good willed banter between those taking part. There were 26 shooters entered and some great shooting over the 20 helice targets and high scores considering they are not using modern guns and cartridges!
High Gun: MARTIN CRIX 17 X 20
2nd IAN HALL 16 X 20
3rd ROD SYKES 14 X 20 + 2 after shoot off with DAVE ELVIN + 1 & STEVE PASSMAN + 0
Congratulations to Martin for taking high gun, what a great score! We have held this event for some years now and it really is a pleasure to organise it and many thanks to you all for staying behind to help pick up broken targets and tidy up, very much appreciated at the end of the hottest day of the year so far!
We held the Staffordshire ABT Championship on Sunday 16th, a mixture of sunshine and a few showers with a light breeze. 7 squads enjoyed the day and some great shooting by many shooters.
Staffordshire Champion: Adam Gutteridge 94/100
Ladies Champion: Gill Grealey 70/100
1st Senior Adam Gutteridge 94/100
2nd Senior Jamie Sutton 88/100
3rd Senior Greg Sinclair 83/100
1st Veteran Ray Sutton 94/100
2nd Veteran G Wainwright 89/100
Joint 3rd Veteran R Wright & A Grealey 83/100
Many congratulations to you all.
OPEN SHOOT RESULTS:
High Gun: Kevin Borley 95/100
Runners Up: Adam Gutteridge & Phil Rowley 94/100
Great shooting, well done to you all.

East Midlands UT
Area Championship JUNE 2nd 2019
Quite a good day greeted the 9 squads for these championships. A good turn out from many of the East Midlands Counties for their Area Championship. Many thanks to Colin Butler East Midlands CPSA General Secretary for his assisitance.
COUNTY CHAMPION: DICK FLETTON 97/100
SILVER: JACK WILKINSON 95/100
BRONZE: JOHN WINN 92/100
LADIES CHAMPION: SARAH CHRISTENSEN 78/100
VETERAN CHAMPION: DICK FLETTON 97/100
SILVER: JOHN WINN 92/100
BRONZE: PASCAL RITUCCI 91/100
Sadly no junior medals were contested!
Great shooting from all the medal winners.
NOTTINGHAMSHIRE CHAMPIONSHIP
Very disappionting that Nottingham with so many good trap shooters in the past only had two shooters contest the championship.
County Champion: PASQUALE RITUCCI 91/100
Rather sad to see so many medals, trophies and badges go uncontested.
OPEN SHOOT HIGH GUN: Dick Fletton 97/100
4 shooters tying for next place were:
Jamie Sutton, Ray Sutton, Jack Wilkinson & David O'Donnell all on 95/100
Well done to you all, great shooting, many thanks to all our shooters for continued support of our shooting ground it is always appreciated and a warm welcome and great to see new faces enjoying our facilities.

2019 ENGLISH HELICE CHAMPIONSHIP & 1st WORLD HELICE SELECTION SHOOT MAY 26th
Well after a few days of lovely sunshine and very little wind how it can change overnight! Sunday turned out to be mild and in the afternoon we did see some sunshine but it was the stiff wind that played havoc thoughout the day, with the targets and many first barrell kills sailing on well over the fence. Very frustrating for many shooters, but we saw some great shooting considering the conditions.
English Helice Champion 2019 - Gareth Stanford Iddon 20 x 24 + 7 B/O after a shoot off with Andy Lloyd 20 x 24 + 6
Very well done to you both, you certainly gave us an exciting shoot off and really good shooting by you both.
High Gun Competition: Andy LLoyd 20 x 24
2nd Steve Cole 19 x 24
Joint 3rd Dionne Rogers, Jonti Spilman, John Foy, Richard Gray & Marcus Iddon 17 x 24
Phil Negus 18 x 24 B/O
Tim Rickard 17 x 24 B/O
Really well done to you all, good scores from many shooters in very testing conditions. There was a great atmosphere at the prize giving and good to see you all stay for the winners to get their medals.
Very many thanks to the referees Donovan Jenkins, Wayne Killian and Andrew Oakey.
Also many thanks to all that helped in picking up the spent broken targets and to Stuart King, Howard Batt and Amanda for helping to clear up at the very end of the day. We appreciate all the help that you give us and it really does make a big difference particularly at the end of a long and busy day.
Next Shoot: JUNE 2nd East Midlands Inter Counties Area UT Championship & Notts County Championship
Entries at ground 9 - 10.30 or TEXT 07770551491 (please make sure to add your name) or email john@ngales.com
NO TELEPHONE CALLS PLEASE - UNABLE TO TAKE PARTICULARS WHEN DRIVING !
LEICESTER & RUTLAND HELICE COUNTY CHAMPIONSHIP MAY 12th 2019
A lovely warm sunny day with good visability making it a great day for shooting Helice. We held the Leicester & Rutland Helice County Championship, but very disappointing turn out from these counties with only two shooters entering, no ladies or juniors and sad to see so many medals, trophies and badges going unclaimed.
Jason Linnell took the Championship with a score of 18/24 well done Jason.
In the open shoot we had some great shooting with Alan Rowley shooting a perfect 24x 24 B/O and 23 of those with first barrel kills, really fantastic shooting Alan!
Joint High Gun in competition:
Jonti Spilman, Howard Batt & Marcus Iddon 22x 24
Phil Negus 22 x 24 B/O
Well done to you all and congratulations to Phil and Jonti who have been selected for the first time as a member of the Helice GBR Team for the upcoming European Helice Championships in Sicily in June. I think anyone who has had the privilege of representing the county will agree it is indeed a great honour.
Good luck to all the shooters going out to Sicily.
Thank you for your loyal support of our club and many thanks to you all for helping to pick up at the end of the shoot, it is very much appreciated.
Note: Shoot on May 19th has been CANCELLED
Next Shoot: MAY 26TH
BICTSF SELECTION SHOOT for WORLD HELICE CHAMPIONSHIP & ENGLISH OPEN CHAMPIONSHIP
Entries are open, If Pre-bookng only by text: 07770551491 or email: john@ngales.com NO PHONE CALLS PLEASE
Lincolnshire County UT Championship May 6th 2019
East Midlands Helice Area & Inter Championship 28/4/19

A great day with 8 squads turning out for the first East Midlands Area & Inter Counties Helice Championships

We were pleased to be asked to to hold this championship, it was a fair day and five teams from the counties to shoot the event.
Great shooting from many shooters with Marcus Iddon shooting a perfect 24 x 24 Birds Only
Junior Connor Harris 23x24 BO shooting Helice for the first time, missed his first bird out then went on to shoot the next 23! Fantastic shooting Connor.
John Lucy 23/24 great shooting John, close on his heels were:
Steve Cole, Kevin Flitton & Mal Grant 21x24
Ben Dingley, Phil Negus 21x24 BO
Kelly Johnson (Suffolk) won the Ladies East Midlands Area Championship 21x24
Very well done to you all.
We are sure everyone must be delighted with the sponsorship in the form of fantastic trophies and other prizes that Donovan Jenkin managed to put together, its not easy getting sponsorship theses days, but Donovan certainly did really well and was the main driving force behind getting these championships of the ground. The work you put into this shoot made for a really good event, which hopefully will go on to become an annual event. Great work Donovan!
As always many thanks to all the shooters that took part for their loyal support of our shooting ground and welcome to the new shooters who were visiting for the first time, we hope to see you all again soon.
Disabled Shooters Group Trap fest 24/4/19
Every Wednesday we hold a practice shoot for UT or ABT and we were asked by Alex a member of the Disabled ShootersGroup, if we would hold a Trap Fest for them on a Wednesday, so that their members could have a go at shooting all of the three disciplines, to try something different.
There were about 12 shooters from the group turned up and what fun they had and we have had some great feed back from them. It is a pleasure to be able to put something like this on and to see the lads putting in some fantastic scores. On the Helice section we had two shooters on 9 x 10, after shoot off Neil 9 + 4 took High gun and Marco 9 + 3, 3rd Reuben 8 x 10. The lads just wanted it as a fun day so there are no ABT & UT scores shown.
We look forward to welcoming DSG again in the future, it was a great atmoshere and good sportmanship and great to see our new facilities of the new car park and disabled toilet making life easier for them. Thank you to all who have sent emails since the shoot, they are very much appreciated.
LINCOLNSHIRE ABT COUNTY CHAMPIONSHIP APRIL 25TH 2019
what a difference a week can made to our weather, today we enjoyed beautiful blue skies, very little wind and really lovely and warm sunshine. We had a fantastic 10 squads for our shoot today, so it was a busy day, but great shooting with a Junior taking High Gun with 97!
High Gun: Joe Tune 97 x 100 + 25
Runner up after shoot off: Jack Wilkinson 97 x 100 + 24
Hot on their heels Kevin Borley 96 x 100
Nicholas Pearce, Nigel Watson & Stuart Whithead 95 x 100
Absolutley fantastic shooting Joe you were shooting against a lot of very highly accomplished shooters and great shooting from you all - well done.
A great days shooting and we thank you all for your loyal support of our club, we appreciate it and never take it for granted. Any new shooters to our ground today, welcome and we hope you enjoyed your day with us and look forward to seeing you again soon.
Derbyshire Hereford & Worcester UT Championship Sunday April 14th 2019
A cold frosty start to the start to the day and turning into a mix of sunshine and rather cloudy and very cold day greeted the 6 squads ready to shoot the Derbyshire, Hereford & Worcester UT Championship.
Susan Bate taking High Gun with a great score of 94
2nd Graham Wainwright 92
3rd Ray Sutton 91
Very well done to you all.
Thank you to all our shooters for your loyal support of our club, it is never taken for granted. And to all our new shooters a very warm welcome to our shooting ground and we hope to see you again in the future.
As this is our 30th year since we started the club, we thought it would be good to celebrate and share our celebrations with our shooters. So we are holding a Christmas Trap Fest, all the details on the poster. We wanted to do something that all shooters stood the same chance of winning, so anyone taking part in our Christmas shoots will be entered into the draw and the three names will be selected at random on December 23rd 2018.
Look forward to seeing you at the ground and good luck!
John Keith & Trevor

Please text 07770551491 or email john@ngales.com Entries by 12 noon Friday August 31st prefered - PLEASE DO NOT PHONE
Please complete the form below and click the Send button to get in touch with us.
Thank you for submitting the contact form.